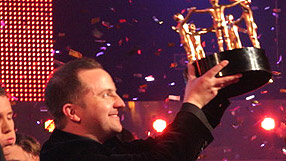 Tim Rhys-Evans started Only Men Aloud! in January 2000. He is from New Tredegar in South Wales.
Idea Behind Only Men Aloud
Edit
Tim wanted to inject new blood into the tradition of Welsh male voice choirs.
Other Work
Edit
Write the second section of your article here. Don't forget to add a category, to help people find the article.
Ad blocker interference detected!
Wikia is a free-to-use site that makes money from advertising. We have a modified experience for viewers using ad blockers

Wikia is not accessible if you've made further modifications. Remove the custom ad blocker rule(s) and the page will load as expected.