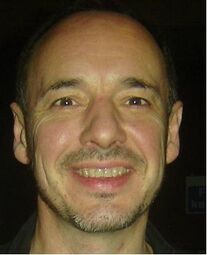 Stephen Hamnett has been a member of Only Men Aloud for 11 years. His voice type is bass.
Early Life
Edit
Stephen was born in Lancashire. He gained a music degree in Cardiff. He was a member of  Llandaff Cathedral Choir, while trying to launch his music career. He was involved in a masterclass with Sir Geraint Evans.
Stephen also performed with BBC Singers and Welsh National Opera.
Ad blocker interference detected!
Wikia is a free-to-use site that makes money from advertising. We have a modified experience for viewers using ad blockers

Wikia is not accessible if you've made further modifications. Remove the custom ad blocker rule(s) and the page will load as expected.