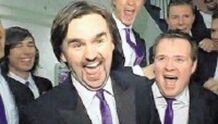 Nick Bristow is a former member of Only Men Aloud a tenor. He was a founder member of the choir.
Early Life
Edit
Nick grew up in Tewkesbury, Gloucestershire. He sang in the parish choir of Tewkesbury Abbey
Move to Wales
Edit
Nick moved to Wales in 1994 to study Music and Cardiff University.
Other Work
Edit
As well as being a founding member of OMA, Nick plays bass in a rock band with fellow ex-OMA member, Andy. He is currently Director of Music at St Joseph's High School in Newport.
Ad blocker interference detected!
Wikia is a free-to-use site that makes money from advertising. We have a modified experience for viewers using ad blockers

Wikia is not accessible if you've made further modifications. Remove the custom ad blocker rule(s) and the page will load as expected.