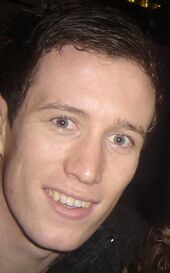 Dafydd Rhys Evans is a former member of Only Men Aloud. His voice type is baritone.
Early Life
Edit
Dafydd grew up in Carmathen, Wales.
Only Men Aloud
Edit
While studying Voice at the Royal Welsh College of Music and Drama, Dafydd was a member of Only Men Aloud. During this time, he played for the OMA 5-a-side football team.
More Info
Edit
Dafydd plays the piano and guitar. He also enjoys songwriting.
Ad blocker interference detected!
Wikia is a free-to-use site that makes money from advertising. We have a modified experience for viewers using ad blockers

Wikia is not accessible if you've made further modifications. Remove the custom ad blocker rule(s) and the page will load as expected.