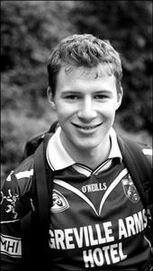 Cian Brennan-Gavin is a former member of Only Men Aloud. His voice type is bass. He is the only ever Irish member of the choir.
Early Life
Edit
Cian has been singing since he was seven-years-old. He is a past member of The Irish Youth Choir and Welsh National Youth Opera.
Leaving the Choir
Edit
Cian took up a job opportunity in the U.S.A. for a year, which let Niall Allen take up his position in the choir during that time. Cian has not returned to the choir and Niall Allen remains a member.
Personal Life
Edit
Cian is currently engaged.