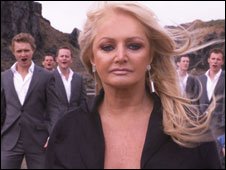 &nbsp
Bonnie Tyler worked with Only Men Aloud! on a new version of her famous track "Total Eclise of the Heart" on their second album "Band of Brothers".
Early Life
Edit
Bonnie Tyler was born as Gaynor Hopkins on the 8th June 1951. She was born in Skewen, Neath, Wales. She entered a talent contest, aged nineteen, but she only came second place. She was chosen to sing in a band with Bobby Wayne, and they were known as Bobby Wayne and the Dixies. Two years later, she started her own band called Imagination. They performed in pubs and clubs all over southern Wales. It was then decided that she use the stage name Sherene Davies.
When she scored a record deal, her stage name was altered to Bonnie Tyler.
Bonnie is well known for her songs "Total Eclipse of the Heart" and "Holding Out for a Hero".